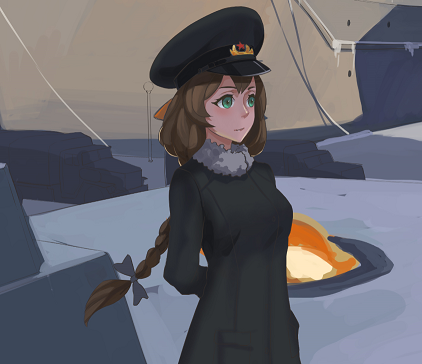 That scantily clad subgirl likely lacking in depth perception wanted me to say something about her home country, so. Here I am.
America is a big place. It's very colorful and vibrant. What I find most interesting is that, like us, America is composed of many different peoples who live very different lives, but it is also bound together by a common set of values and ideas. To me, a big surprise is to find out that American people are just like us. Now, there are many that I am great friends with and like very much, and there are many that I still do not like at all.
However, you would never be able to tell that to be the case, just based on how different parts of the country see each other. Sometimes I am not sure which part is bigger, the "United" or the "States." You would never see such ugly disagreements at home to be so blatantly brought to the surface. The switching of governmental parties on a regular basis also makes this, in my view, a very inefficient way of governing. America already gets a lot of things done, but imagine what it could achieve if it was organized and structured like us.
American culture is, well, American. There are parts of it that I like. There are parts of it that I don't. I find the overly religious aspects entertaining and endearing if a little antiquated, but the strong sense of family and social values is something that I appreciate very much. I also will say I think Americans know how to work hard and know how to have fun. There are many things that America does better than us, and in a wealthy, capitalistic society as such, it is only natural that such excesses can be found.
Ideologically, I think it is very clear. America is not the enemy of the Soviet people. We were allies in the Great Patriotic War, and unlike other powers America does not come across to me as more hostile than other powers of the world. However, our views are too different for us to be amicable. Your way of life is not ours, and our way of life likely do not suit yours.
HEY RED! YOU KEEP YOUR COMMUNIST SHENANIGANS TO THE SIDE OF THE PLANET THAT SPEAKS RUSSIAN AND WE'RE COOL, OKAY?
Um, Pennsy, this is my segment…
I KNOW! WHY DO YA THINK I'M HERE? I'M CORRECTING THE RECORD SINCE YOU ONE-PARTY STATE-RS DON'T GET JUST WHAT MAKES AMERICAN DEMOCRACY GREAT.
See, here in America? We believe in the individual. We don't need the government to do stuff for us. The less efficient it is the better! We've got ourselves, our family, our communities, our towns, our counties, our states, and then America itself that could all be counted on. This gives us something called FREEDOM.
Rag on the capitalists all you want. I'm not saying that we don't have fat cats. We hate 'em too. But we don't pretend that they don't exist neither.
Also, just on that point alone? We've got more philanthropy than the rest of the world combined. That's how much good people can choose to do –
Oookay Pennsy come on let's go. Nobody asked you, y'know…
SHUT UP SANNY I'M DEFENDING AMERICA AND THE AMERICAN WAY OF LIFE!
Oh c'mon. You don't see me butt in every political post you make, do I?
Um, yes you do! If you didn't we wouldn't be arguing now would we?
Oh you want ME to get political? You do know that America's got a lot of different ways of tackling the problems we face, right? So do I get a piece too?
Are you seriously going to try to side with the Russian?
Well, which one? Tasha's not Sverdlov's not Pantera's not S.S.'s not Petr's not Ulla! The USSR's not one monolithic bloc either!
I KNEW YOU HAD COMMUNIST LEANINGS!
I'm a Democratic Socialist! Plus, even your arch-conservatism have similar views on some issues! I mean I've been keeping it civil so far but if you want to pick a fight we can have one!
---
Yikes, Tasha, sorry about that.
Well, bikini-submarine-girl that I still don't understand how you see, this does kind of prove my point. I mean, despite how much you Americans fight each other, in the end, you still manage to come through and be united. I bet you if Sverdlov is here those two would find common ground at the drop of a hat.
Haha, yeah. Say, want to get ice cream? I can see Maury waving to us.
Yes.