"Hi there! My name is Tautog and welcome to another one of my sub corners -"
THAT'S WHAT A PANSY WOULD SAY!
YOU GOTTA MAKE YOUR STUFF KICKASS OR ELSE PEOPLE'LL FALL ASLEEP.
HELLO READER!
YOU WERE EXPECTING TAUTOG? TOO BAD, IT IS I, DOLPHIN!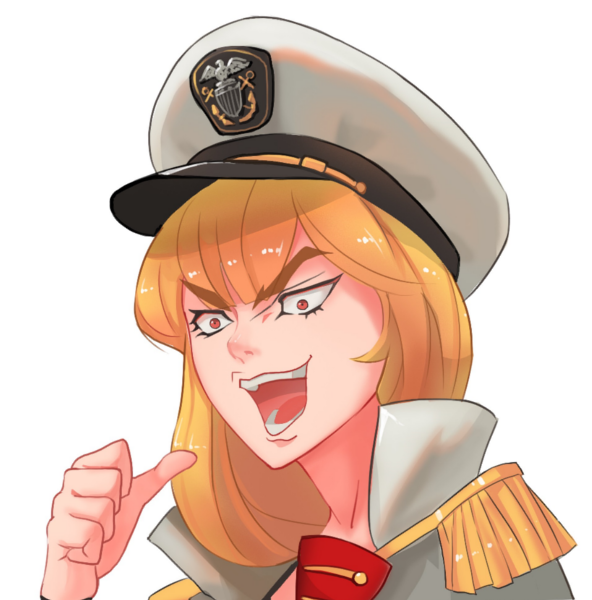 ALRIGHT LISTEN UP. WELCOME TO ANOTHER EPISODE OF DOLPHIN'S KICKASS SUB CORNER! IT HAS COME TO MY ATTENTION THAT MOST OF YOU HAVE NO CLUE HOW A DAMN SUBMARINE WORKED TO BEGIN WITH!
SO I'M GONNA TALK ABOUT A BIT OF THAT TODAY. JUST REMEMBER. THE ONE TAKEAWAY MESSAGE TODAY IS THAT THE SUBMARINE'S CREW IS A CREW OF THINKING MEN!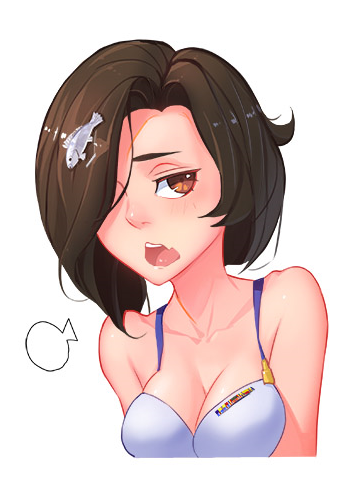 …You'd be a lot more effective if you weren't shouting all the time.
SHUT UP DEPTH PERCEPTION I'M TALKING HERE. MY ORDERS ARE FROM MORGANE'S MOUTH TO MY EARS, SON! SO I'M DOING THE SUB CORNER TODAY.
Yes but she didn't tell you to just shout…
SHOUTING IS HIGH ENERGY! IT'S BEEN SCIENTIFICALLY PROVEN TO IMPROVE MORALE. DO YOU NOT WANT IMPROVED MORALE?
…
THAT'S WHAT I THOUGHT.
OKAY. BACK TO WHAT I WAS SAYING. THERE'S THIS STEREOTYPE THAT MILITARY MEN ARE A BUNCH OF BLOCKHEAD IDIOTS IN WORLD WAR 2. THAT MIGHT BE TRUE FOR SOME BRANCHES CONSIDERING THAT THE AVERAGE EDUMACATION LEVEL WASN'T TOO HIGH, BUT NOT FOR THE SUBMARINES!
THE SUBMARINE SERVICE VALUED BRAINS OVER BRAWN, AND EVERYONE ON BOARD'S A SPECIALIST. IT'S WHY THE AVERAGE NON-RATED MEN ARE LESS THAN 20% OF THE ENTIRE CREW. THE SUBMARINE'S HARD TO WORK WITH, SO EACH OFFICER AND MAN MUST BE A SPECIALIST IN HIS OWN JOB, BUT HE MUST KNOW HIS SHIPMATE'S JOB AS WELL.
…OKAY. NOW THAT YOU MENTION IT. WOW. ALL CAPS WRITING IS KINDA HARD TO READ…
*mumbles*
Okay. Fine. Maybe Tautog's got a point.
Anyways. It's obvious why they do it. Submarines operate in very tough environments. If anything goes wrong each man must be able to step up and do the job.
Hence, before an officer or man can get qualification on a WW2-era submarine, he must first test a very tough written AND oral test on everything that's on a submarine. That means the man must know all the machinery, piping, equipment, and everything else that goes into the submarine. This is a case where every man knows how to fire the torpedo tubes or change the batteries or maintain the engine. Wouldn't be surprised if they knew how the TDC worked either.
The reds like to say that they're a perfect machine made of men. Well, the US sub crew's even better! There are no spare parts here. Every man is a cog in the wheel, and each cog must do its job to perfection IF the submarine is to function smoothly, efficiently, and above all else, SAFELY. See, the US is very good at that as well. We value the men and we'll probably talk about it in another sub corner at some point.
K9 sometimes say if we take all the girls from Pacific we can operate a sub on our own. He's not wrong. The US submarine started off the war with 5 officers and 54 enlisted men. Later on in the war this number grew to around 8 officers and 75 men.
The senior officer of the submarine – captain – is typically called the "Old Man." This is because he was much older than the crew. At the outbreak of WW2 he was probably a Lt. commander who was 34-36. The executive officer of the submarine acted as navigator. Apart from these two there's no seniority on a submarine, and the sub assigns the following roles based on experience and their capabilities.
So, you've got the chief engineer. The torpedo and gunnery officer. The comms officer. The Commissary officer. Sometimes they've got radio officer. I shouldn't need to explain what each one of these guys do. The names are pretty OBVIOUS. After all.
Then you've got the men. About half I'd say are motor machinist's mates, electrician's mates, and torpedoman's mates. The first of these three works in the engine room primarily and operates machine tools. The electrician's mate works with batteries and all sorts of electronics.
The last guy… Do I really need to explain what a torpedoman does?
Then you've got radiomen and other operators that work the electronics. There are three quartermasters or signalmen, one gunner's mate, two cooks, two steward's mates, one pharmacists' mate, one yeoman, and some ordinary fireman and seaman to round things off.
Oh. The senior petty officer on board (usually a chief torpedoman's mate) is designated the chief of the boat.
… WHICH MEANS IF WE GO CREW A SUBMARINE. GUESS WHO THAT'S GONNA BE?
HAH. SEE YA NEXT TIME.