STEC Archives, Print Document Division
Curator signature: Jer
Format: Textual Record
Object: Artifacts of the Vladivostok Conference
Location (if known): STEC Archives
Time (if known): January 1990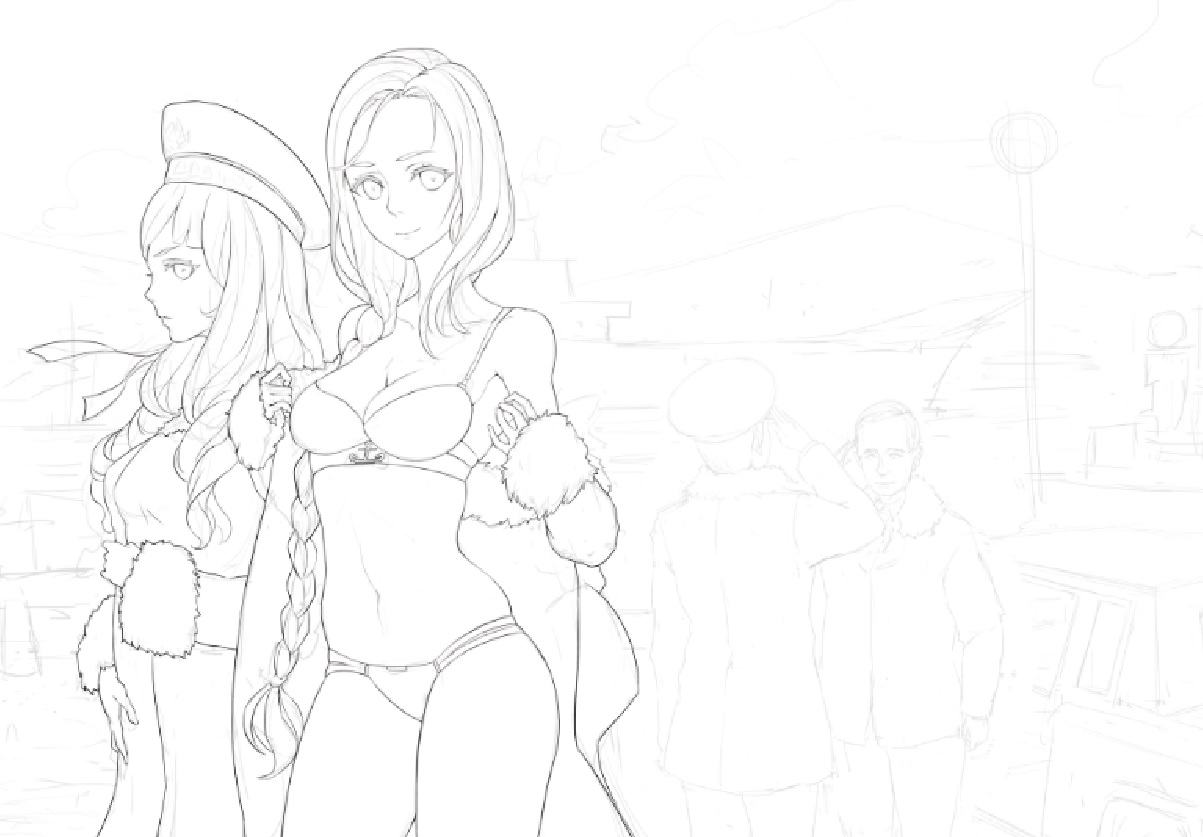 Proceedings of the Conference

Monday, January 15th, 1990

Rickover – Gorshkov Meeting, about 1:30 p.m.

Yin – Kovalevsky Meeting, about 3:00 p.m.

Rickover – Platov Meeting, anticipated to begin 11:00 p.m. to Midnight PENDING SECURITY DETAIL
Select cables on display
TOP SECRET

For Admiral Rickover, from the White House Map Room, sent via secure military channels

I have some doubts about the security of your trip as a whole.  The girls are keeping me up to date with the top of the line, round-the-clock intelligence and I appreciate it very much.

However, MERLIN has just detected a massive spike in unknown signatures near the port of Vladivostok. Given the icy political climate, the disarray of the Soviet forces, and the significance of the personages involved, shouldn't we send more of the girls with you?
Rickover's reply:
TOP SECRET

Thank you for your concern Mr. President.

However, I do not believe additional security would be prudent at this time. I do not know whether the Reds read our intention as benign or bellicose and it is in my view that the less shipgirls we bring the better. My mission, after all, is to secure Soviet cooperation with the deployment and housing of our forces conventional and extraordinary along the Maritime Provinces to Alaska. This physical meeting is more of a show of goodwill than not considering the convenience of fairy-encrypted communications.

Besides, two is more than enough. I'd have asked for one but Narwhal insisted on coming along.
Another diplomatic cable, but coffee seems to have damaged a small portion of the corner of the cable in question
TOP SECRET

To    m  r         v        in, Chairman, Central Committee of People's Commissars, Russian S.F.S.R., from the White House Map Room, sent via secure military channels

Given the delicate nature of the conference, it is our opinion that the arrangements of proper military commands be established as soon as possible. Cooperation between the United States and the U.S.S.R., as well as other powers involved will be of the utmost importance in the curbing of the Abyssal threat.

To this end I am proposing the possibility of arrangements of immediate deliverance of key intelligence belonging to our respective submarine forces. It would not be exceptionally difficult considering the extraordinary capabilities of the submarine shipgirls, but I want to first ascertain your positions on such an exchange of information. Rest assured that the United States do not plan to act in any way where direct harm would be caused to the U.S.S.R. given her own sphere of jurisdiction. Any such intelligence arranged would be utilized by only by STEC and not shared with any other organization until further discussion.

Naturally we expect this condition to be mutually binding.
TOP-SECRET-FAIRY-MAIL

Dear Wisky,

Russia is fine. As expected it's kinda cold so kinda like home, huh? The meetings are going much better than anticipated and the Commander mentions that we might be able to come to an agreement if we can hammer out some of the finer details. I learned a lot about naval operations in the arctic in the meantime!

Things are fine. Jer worries too much. If anything I'd worry about the Soviet delegation. Rumors have it that there's another purge on the horizon, and the largely independent Russia Soviet Republic is prime target for the Politburo to crush. I suppose if it gets really messy we can always just grab the KOG and physically carry him back to safer havens – though what a sight that'd be, haha!

I haven't had any time to do any kind of shopping yet but Tasha said she'll take me to the Ussuriyskan Consumer Goods Complex if we can't find any near the meeting conference. Still no jeans here, but plenty of other fashion options here. I'll tell you all about it when I get back!

Yours warmly,

Maury
From STEC Archives, Digital Documents Division

January 14th, 1990

Correspondence no. 33
Sender: Dolphin, Shipgirl
Recipient: [ROSTER] CURRENT-MERLIN-PERSONNEL; [ROSTER] STEC-INTELLIGENCE-DIVISION; [ROSTER][AD-HOC] PATROL-GROUP-NORTHERN PACIFIC; [ROSTER][AD-HOC] SUPPORT-GROUP-NORTHERN PACIFIC; [COMMAND] TASK FORCE M; [COMMAND] TASK FORCE S
cc: New Jersey, Shipgirl

ALRIGHT TADPOLES LISTEN UP

THE BOSS, THE OTHER BOSS, DD-BOSS, AND THE BIG BOSS ARE OFF VISITING RUSSIA

THIS IS FINE

WE'VE GOT SOME INFO ABOUT THE ABYSSALS THAT ARE GONNA BE HITTING THE SEAS SOMETIMES AROUND 00:30 OUR TIME

THIS IS OBVIOUSLY NOT FINE

I WANT EVERY MAN, WOMAN, AND FAIRY DOING THEIR JOBS EXTRA WELL

BECAUSE DO YOU KNOW WHO ELSE IS THERE WITH OUR GUYS AND GAL

THE HIGHEST RANKING SOVIET POLITICIAN WHO IS COMPLETELY ON BOARD WITH FIGHTING THE DAMN THINGS

ALONG WITH HALF OF THE RED NAVY'S COMMANDING OFFICERS

THE ABYSSALS ATTACK THAT PORT THEY'RE GONNA KILL SOMEONE

IF THEY KILL SOMEONE THIS WORLD'S GOING UP IN FLAMES WITH NUKES FLYING BEFORE THEY EVEN LAND

SO

YOU KNOW WHAT TO DO

DO YOUR THING

KEEP YOUR EYES PEELS FOR THE SHITS

KILL THE LITTLE SHITS IF THEY SHOW UP

AHUGA!!
From STEC Archives, Digital Documents Division

January 14th, 1990

Correspondence no. 36
Sender: DOMINION-OF-EMAILS [MAILER SPIRIT]
Recipient: Dolphin, Shipgirl

OUTBOUND MAIL RETURNED
MESSAGE FAILED TO DELIVER TO: Mahan, Shipgirl [ROSTER] CURRENT-MERLIN-PERSONNEL
Error code -4: SUSPECTED SPAM; MESSAGE FILTERED
From STEC Archives, Digital Documents Division

January 14th, 1990

Correspondence no. 210
Sender: Dolphin, Shipgirl
Recipient: Mahan, Shipgirl

HEY FOUR EYES

STOP FILTERING MY VERY THOUGHTFUL AND INSPIRATION EMAILS

I KNOW YOU READ THEM