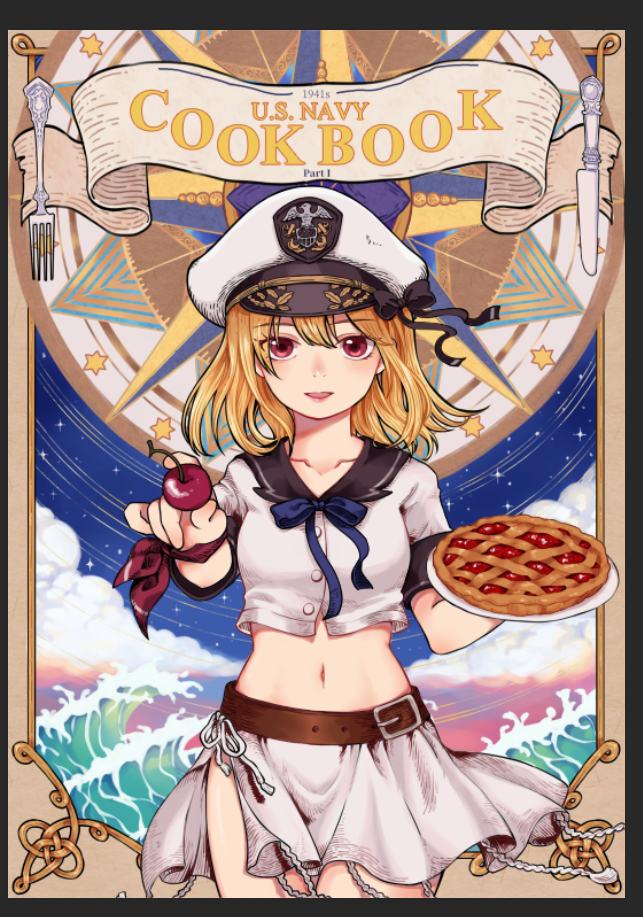 Okay, so, a lot of people have been asking.
What's with the cookbook? There's a billion military history related things you could write about, and you pick food. Why?
Simple answer: because we're interested in food.
Slightly more complex answer: Morgane likes to cook.
The actual answer:
To get to this question, you have to understand what kind of a person I am. I've talked a bit about the book's creation here, but, in a nutshell, I am a lot less interested in the "specs" of military hardware than I am the people behind the hardware. That is to say, I find something fascinating about the people themselves, and I'm very much of the opinion that training and morale is one of the most significant things in war.
Not that the specifics aren't interesting. You'll find that we've painstakingly researched a lot of details in Pacific that I'm quite proud of. These range from obscure properties and commentary on torpedoes to USN gunnery tactics to detailed examinations of code-breaking.
However, at its core, Pacific's a love letter to things Americana. It is our views on what America is – whether it's through the creation of our characters or the explanation of its history, it's our way of showing our readers why we love this country and the things it stand for. I've said this before, and I will say it again. In this, our motivation is no different than Tanaka's. We just happen to pick a different side, and we believe – as he does – that our side is the right one. The "good guys," so to speak.
Why do we look at history, though? I bet you at some point you've wondered if things could have turned out differently. We – let's face it, we're all bathtub admirals and armchair generals here, the folks reading this site – see history as not only a way to understand what has happened, but to me, it's a literal gateway to the past.
Open a map. Open a book. Close your eyes. The battles come to life before you. How would you like to be Nimitz on the eve of the Midway engagement? With history, you can do that. You can read what went on his mind, how he made his decisions, and realize what has happened after. How about Lockwood before a Congressional panel testifying on behalf of the submarine force? With history, you can do that.
History can be fantasy. That's where you get your wehrbs wanking over muh 3rd Reich stronk. But I find it more interesting if history is grounded in reality. It's why I'm interested in it, and it's why I think it deserves to be treated with the utmost seriousness. The more you understand what happened, the more "real" that story becomes, and I think that could only lead to great things.
Which leads to food. Okay, it might be kinda hard to get a real Sherman tank. Might be expensive too. But! Would you like to eat Halsey's favorite dish? Cook something out of Mrs. Eisenhower's personal recipe collections? Drink Raymond Spurance's coffee? You know, the same he makes every morning, before every battle, big or small?
A serious investigation into food reveals a lot of information. It tells us about people's habits. What their lives were like. What they believed in. What sort of things they liked. What sort of things were available. It gives us insights into what motivated soldiers, as food was one of the chief sources of morale during the war, and the Navy did its best to rig things up to comfort her sailors out on the high seas.
To me, most importantly, each recipe – if you dig hard enough – is a tale onto itself. There's a story behind each and every one of the things I've thought hey, this should go into the Navy Foods book so our audience can hear them. Whether it's things that are situation specific (motor oil from some of the submarine-based recipes) or things that are ship-specific (the Essex really had a thing for spices) or things that are people-specific (not meaning to rag on Spruance but his coffee was apparently really, really dark), these are all great stories!
Stories that I felt deserve to be told, but for one reason or another got missed.
Well, not anymore! Hopefully I'll do my part in bringing some of them to light. And, if you took the effort to try to cook some of these things, then congratulations! You've just recreated a piece of history in your own kitchen!
PLEASE NOTE:
BECAUSE THIS IS IMPORTANT IT'S IN CAPS.
THE NAVY FOODS BOOK IS LARGELY FAITHFUL TO HISTORY.
THIS MEANS THAT SOME OF THE THINGS IN THE BOOK MIGHT NOT BE AMENABLE TO YOUR MODERN PALETTE.
PLEASE READ THROUGH THE ENTIRE THING CAREFULLY BEFORE DECIDING TO MAKE IT ON YOUR OWN.
PLEASE ALSO BE AWARE THAT NO ONE (ESPECIALLY NOT IN THE TEAM) WILL FAULT YOU FOR MODIFYING THE RECIPES TO MAKE THINGS MORE EDIBLE
THANKS
Morgane