I'm still sick, but I thought I'd talk a bit about something an old, old reader of ours asked.
Reading your creations was a pleasure & I'd like to comment.

[Commentary on shipgirls removed]

Your grand father surely are aware that WHILE the NAVY had stricter rules from THIS OLD FARTS PERSPECTIVE plenty of WARPLANES had nose art on them THOUGH I THINK (I MIGHT NOT BE WRONG HERE …) the BRITS had a lot MORE of their planes with nose art on EM

BUT WE HAD

yes we definitely had nose art on our aircraft. MIGHT BE TOO RISQUE FOR YOUR WEBSITE but it WOULD BE NICE to SHOW THE JAP GIRL & YOUR CHINAMEN what some of the ART looked like. I WAS ON SAIPAN IN 1944 & THERE WERE DEFINITELY BOMBERS THAT HAD TO BE PATCHED UP I DEFINITELY REMEMBER SEEING NICE YOUNG WOMEN PAINTED ON THE SIDES OF 'EM

ONE OF THEM LEATHERHEADS THAT WAS REAL GOOD AT IT TOO HIS NAME WAS MARK I WONDER IF YOU'D KNOW HIM

ONE HAD A NICELY PAINTED YOUNG LADY THAT LOOKED KIND OF LIKE YOUR IOWA BUT SHE WAS COYLY HIDING HER ASSETS BEHIND A NICE BIG BOMB

You should see if you can find some to show IT WOULD BE NICE

[Rest of the message redacted]
Firstly, thank you for writing in. You're definitely not wrong in your memories there. Family members mention that while the officers are generally very strict on nose art/pin-ups being not allowed on the planes, below decks & inside the cockpit were different tales.
Secondly, as the war went on, these standards became less and less relaxed. I am more familiar (ironically) with nose art over in the European theater, but it took me a while to find nose art in the Pacific.
Simply put, they did exist. In fact, there were a lot more of them than we'd realize. They went from something simple – such as this one here, "Barbie" is the name of the pilot's wife…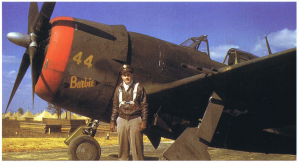 To this particular P-38 in the Philippines in 1945…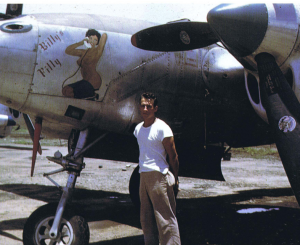 "If it moves, salute it. If it doesn't, paint it."
I don't know how true this is, but it's what I've heard some of the older folks in the other side of the family say. It certainly seemed to be the case. For instance, this one's from a fighter.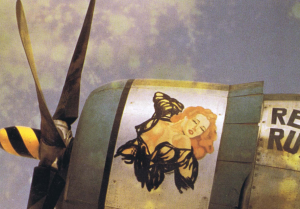 Of course you have stuff like the iconic "Shark Mouth" – here's a commemoration P-40 that's pretty colorful.
Then as bombers started showing up, the designs become increasingly more elaborate.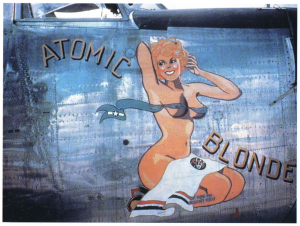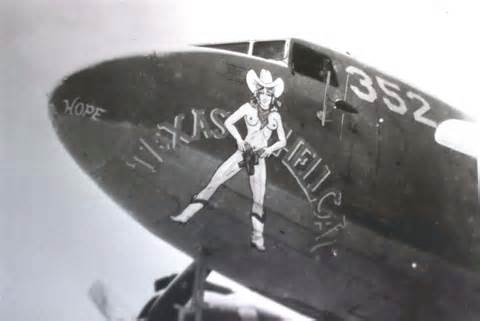 YOU EVER THINK ABOUT PUTTING YOUR GIRLS ON A PLANE? SURE HOPE YOU WOULD. MAKE THE LITTLE FAIRY MEN DRAW EM ON BOMBERS. BIG ONES. I SEE MITCHELLS ALREADY
Er… Well, yes and no. We actually did have something rather entertaining in mind. For instance, I'm sure you recognize this dashing gentleman here.