"Are the Pacific books sold out at this point? I can't find it anywhere in any of the places you've linked."
To the best of my knowledge, the Japanese copies are all sold out. (They've been sold out for the last month or so and no current plans for reprints)
The Chinese copies are also all sold out. What is available for purchase are on our site's side bar, and we'll be selling physical copies of volume 1 (in English) at Boston in a few months.
---
Usually I take this time to round up sketches from the team and to update everyone on what's going on. As we're switching out image hosts, however, we'll have a lot of administrative shuffling.
There's a lot of stuff that I've never posted publicly. For instance…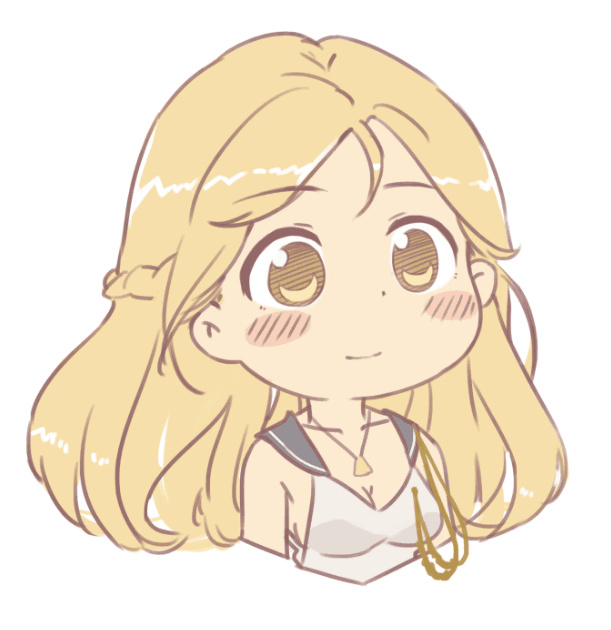 You can see that something like this was made and uploaded more than a year ago. Sometimes I hold stuff back because I want to write a bigger post. Other stuff will be shown when it's time for them to be shown.
Now, why Tennsy? I think that's because from our own internal polling, there are certain shipgirls of ours that are a lot more popular (within the team) than others. Cal, for instance, is frequently used as a companion for Jer or Flora or Norknork. Tennsy, on the other hand…
Oh. That Tennsy. She's, like, got her head up in the clouds half the time. Don't get me wrong! She knows how to have a good time. Buuuuut, you know which gal God gave the fun parts? Like, the really fun parts?

Me, of course! Haha!
I'm learning how to create characters, and the way I've envisioned Tennsy is that I think she'd be a gentle and quiet girl. Now, would she really be the type to be talking about herself…
Probably not. So, here, rather than having her talk about herself, I wrote a simple line from the perspective of Cal. Now the reader learned two new things. Tennsy's got her head "up in the clouds" (well, we did say that she's a daydreamer in vol. 2 so that's just confirming something you'd have already known), but, perhaps more than anything else, Cal's bragging about herself again.
That's a part of Cal's personality, too. 🙂
See you guys next time.