After pondering deeply the general trends of the country and the actual conditions obtaining in Our Party today, We have decided to effect a settlement of the present situation by resorting to an extraordinary measure.
朕深鉴国之大势与帝国之现状,欲以非常之措置收拾时局,兹告尔忠良党民.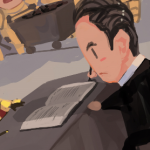 We, acting by command of and in behalf of the Grand Old Party, the Republican National Committee and the Republican Party of the United States, hereby accept the provisions set forth in the declaration issued by the …
余等兹布告,无论GOP大本营,共和党国家协会,与美国共和党所支配下一切,悉对…
---
(FYI, dear readers. I'm American. Like, been here for like generations. xD)
This, sent in by one of our readers, sums up how hilarious our political climate has become.
我想先贴个读者给我发来的截屏。你们现在看得还不乐吗?美国政治就是这样了。

For our Chinese readers, Nate Silver is the writer of FiveThirtyEight, a popular political commentary site. Stuff like this is probably why a small but growing segment of people have problems believing that media's fair and impartial. The echo chamber exists in both the left and the right, of course, and believe me, I've lurked about in plenty of places trying to get a sense for how people are thinking about the issues.
稍微给我们的中文读者朋友们解释下。这位Nate Silver是一个叫做538网站的站长,是一个美国比较火的政治评论网站。然而,你可以看到这里面的逗逼就是现在老多美国人不相信媒体的直接原因。当然,无论是左还是右都喜欢宅在自己的真爱圈圈里面,这点是真的。我潜水多年,这点还是能看出来的。
There's a very simple trend I'm noticing. There's a huge disconnect between what the media's putting out there, and what the people are finding out on their own. I don't know how significant this actually is, but from what I can see online and offline, people are asking questions. Increasingly I've noticed comment sections being shut down or much more aggressive policing of speech everywhere, and to me, this only means one thing.
今年的状况很简单啊。媒体的观点,和群众的观点,有一些根本上的不同。我不知道有多少人开始醒过来了,但至少从我在线上线下的观察,大家都在问问题呢。最近好多网站的评论区啊,讨论区啊等等也都关了(或者说只让你评论某些文章),删除回复的频率也加了老多。对我来讲,这只能代表一个意思。
People are onto something, and whoever they (the ones deleting comments) are, they don't want stuff to be talked about. Don't get me wrong. The comment sections are oftentimes some of the nastiest parts of the internet. Plenty of views you encounter there are going to be disagreeable. More often than not people are wrong about many, many things.
那些美国网站上关评论区删贴的人,肯定有什么东西要藏的。他们肯定不想让大家来讨论事情。别理解歪了。这些评论区总体素质很低,俗称网络的肛门是没错的。你里面肯定会看到很多错误的观点,并且有很多三观很歪的人在里面发贴。
But no amount of wrong can cover up the fact that beneath the vitriol and the anger, there are ideas being expressed. I don't think anyone arguing in those places are really going to be persuading one another, but you know what they're doing? They might be able to convince other folks. Casual readers. Folks like you, or maybe me, who's approaching an issue as it is. An issue.
但你知道为什么美国人现在开始关评论区吗?因为无论这些评论区多么恶劣多么恶心,里面最终还是有想法有思路的。我不认为那些互相对骂的喷客们能说服对方,但你知道他们在干什么吗?他们没准能说服路旁小白,就是那些过来看热闹的人。任何一个评论区可以说都有这个功能。对想了解一件事的人民,其实这些讨论区可能不是坏事。
See what I'm getting at? What I'm saying is that if you believe in the inherent "rightness" of your viewpoints, there's no reason whatsoever that you should be against discussion. Let the unwashed heathen masses break against your oh-so-logically-obvious viewpoints. Let them challenge – and fail, if you are so right. Prove it to the rest of us plebians. If your viewpoint is so right, it should easily stand up to scrutiny. Why hide?
你知道我的意思吧?如果你的观点那么正确的话,人家问问你,你怕啥?草民贱民逗逼们的智商如果干不过媒体大佬专家的话,专家们怕什么呢?他们挑战你,你证明他们错不就行了吗?如果打脸能打的啪啪响的话,你说这些媒体藏什么呢?
Don't give me that bullshit about people can't understand or people don't know any better. I'm training as a medical doctor. At a school of our caliber, we are taught that if we cannot explain our medicine to a five year old or a ninety-five year old, we're doing something wrong and needs to do better. Several of my close friends are PhD. candidates training in the natural sciences, and it's the same thing for them. Explain science to the public, and if you can't do it accurately and concisely, you're failing as a scientist.
别告诉我你观点太高级平常人看不懂。我们训练当医生的一个原则就是任何药理任何原则都应该能给一个五岁小孩或者九十五岁老奶奶解释清楚。如果你说不明白的话,你是个弱鸡。滚回去重练。我读博(自然科学)的好几个好友也是一样。科学家给大众人民解释不清楚科学原理?滚。这种战五渣也敢好意思称呼自己为科学家?
Why shouldn't we apply these principles to contemporary issues? What exactly is so bad/good about wanting to limit immigration, or increase minimum wage, or healthcare or any number of issues? Why are we so quick to dismiss any viewpoints that we disagree with?
我们为什么不拿出这种态度来讨论我们身边的事情呢?想停止移民,是好,是坏?我们能不能简单的解释我们为什么支持公民医保等其他的观点?我们为什么当对方提出反对观点时,立马就开始塞抹布让对方闭嘴呢?
If we believe something to be right, but we can't explain it well, then we're ignorant and stupid. We should get better.
如果我们认为我们的观点是正确的,但我们不能好好的解释这观点,那我们是无知的傻逼。我们应该做的更好。
If we believe something to be right, but can't be damned to take the time to explain it well to other people, then we're not only ignorant, but we're also arrogant and disrespectful. That's actually worse.
如果我们认为我们观点是正确的,但我们却懒的解释,我们不但是无知的逗逼,我们是狗眼看人低。
Unfortunately, what I've noticed is that our media are increasingly doing just those two things. It's one thing to do those, but when you add active censorship like Facebook filtering out conservative sites to the mix, it's downright Orwellian. It's why I find the dynamics of this election to be so fascinating. This is maybe the first time where we've seen the people push back and have something to show for our efforts. This is absolutely, positively exciting, and we're definitely going to follow it all the way to the end.
但你知道吗?我们的媒体基本上就是用这两个论点来套人的。当你加上最近脸书直接删除不符合脸书观点的观点时,这其实蛮恐怖的。我认为这次大选很奇妙的一个大原因,就是这是美国人民第一次对美国媒体的反抗,并且第一次有可能成功的迹象。我认为这很让人兴奋,而我也自然希望能跟随这个故事到底。
For me? This journey's been personal. You'll see why with the New Jersey/California update. Hope to see you then.
对于我个人啊?这几个月,可以说对我是一个非常个人化的影响。新泽西,加州更新的时候,我会解释解释。朋友们几个星期后见。
---
Right. The results.
(All are again, from the New York Times.)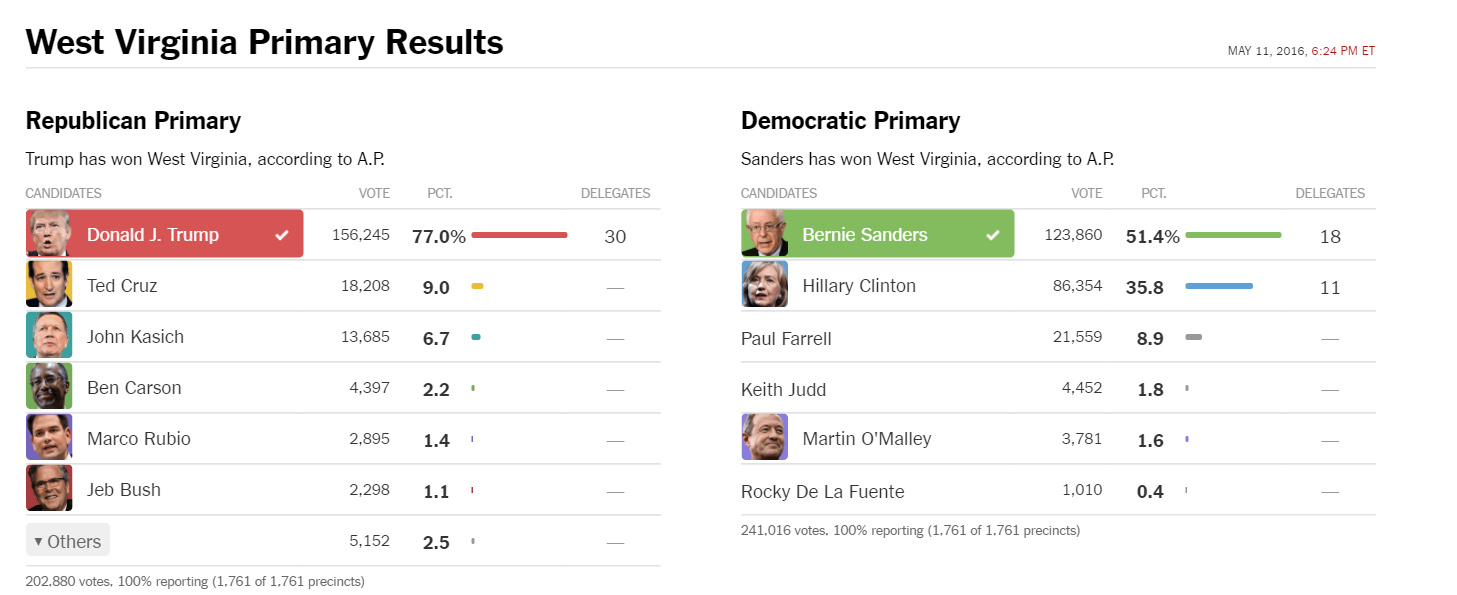 It's worth mentioning that WV went overwhelmingly for Hillary in 08. While the Republican Campaign is slowly wrapping up, I think the Democratic one is just going to be heating up.
吐槽下,08年WV还是直接挺希拉里呢。所以我感觉虽然共和党要结束了,民主党的看样子刚刚要热起来。
---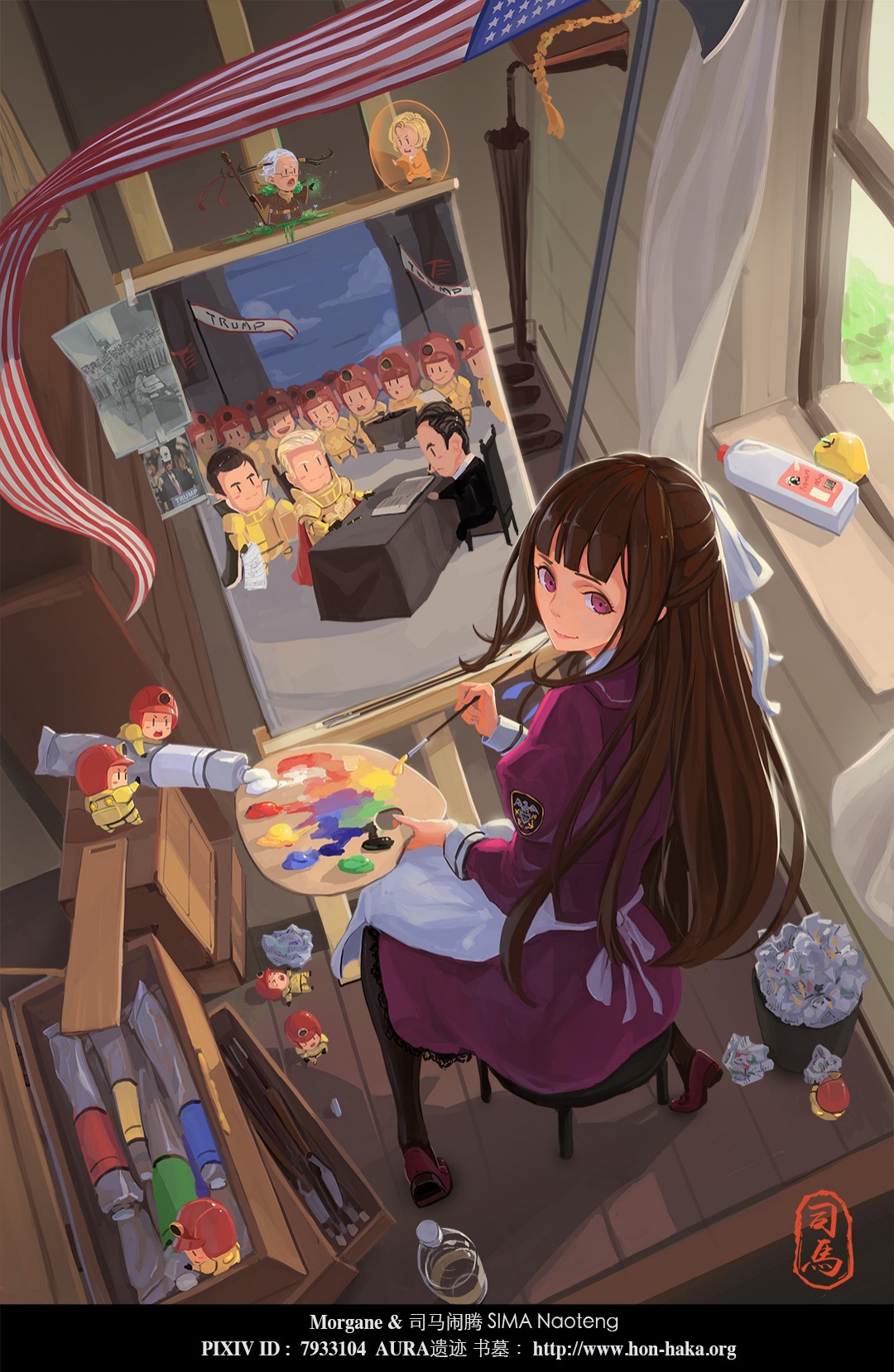 Now, for what's present in this piece…
今天的梗…
Believe it or not, we've been working on this as soon as Indiana's results came in. The only thing new we added are the uh, things on the windowsill. One's the state fruit of West Virginia. The other? Well, it's this brand of milk right here. Someone may or not be buried under there. I'm not saying anything.
其实你知道我们早在印第安纳出结果就开始构思这幅画了。不过,窗台上的东西是昨天加的。苹果是WV州的州果。另外那个啊?那是一个内布拉斯加州的牛奶牌子。也许有某个可怜虫被压在了地下。我可什么都没说哦。
(内布拉斯加州是共和党最早反特朗普联盟的发源地。克鲁斯曾经说,如果要是能赢内布拉斯加的话,立马跳回总统竞选。
然后,那啥… 基本上被吊打了…)
A special comment from our artist, since Sima went to art school in France and is classically trained: Weavy has to keep windows open for this kinda thing. The smell of oil paints are horrid, and while it's nothing like the extremely dangerous conditions that miners have to go through, it really isn't easy. Oil painting really aren't for light-weights.
啊,稍微解释下。我们的画师,司马,在法国学过传统美术。油画的味道很重哦,所以惟惟要把窗户开着来通风。当然,没有WV州里煤矿工拼着老命来挖煤危险。但你理解。
Oh, the reference image? It's this.
啊,你说这幅画的图啊?这里。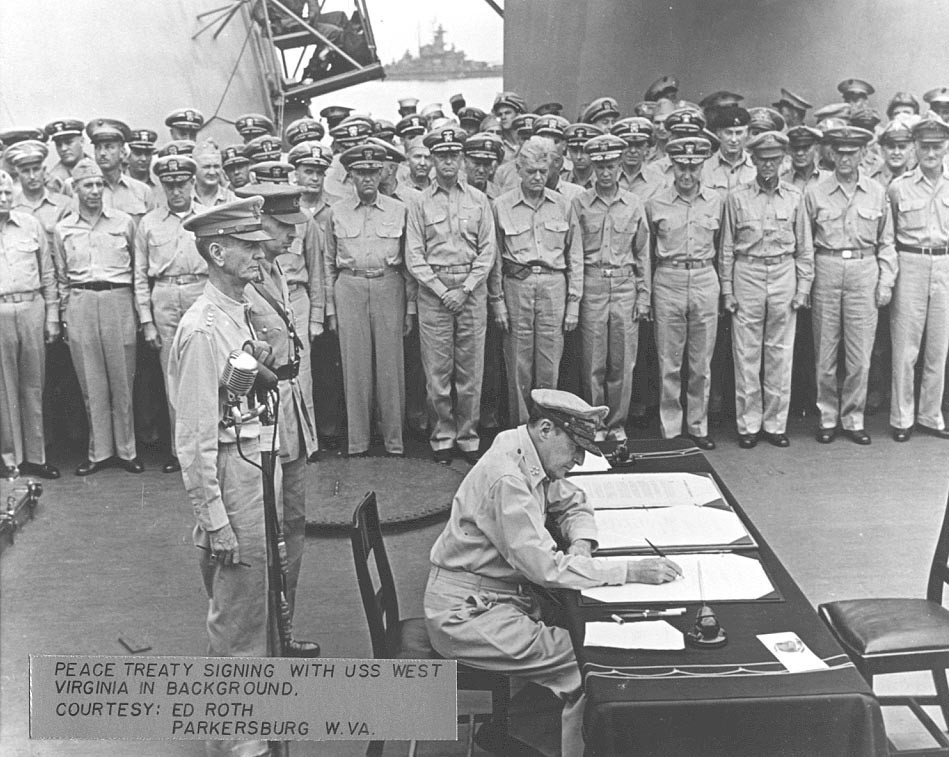 We thought it was quite apt, given the political circumstances. It's a little hard to make out what the other fairy's holding in his hands, so all I'm going to say is one hint: google 7000-51.
我们认为这非常符合现在的政治情况。当然,你也许看不到另外精灵手里拿的东西是什么。我只能说,查查联邦政府表格7000-51是什么吧。
咱下次见哦。
---
< Feast Of Crabs ◇ TIME LINE ◇ Primary Finale Part I: Nocturne >